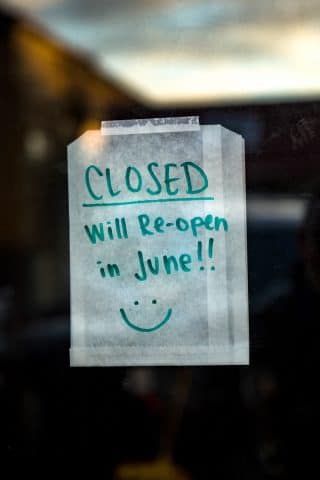 Are you searching for tips on reviving business goals during COVID-19?
Companies are taking on the monstrous challenge of relaunching their businesses in today's new normal. This has many leaders asking themselves:
What actionable strategies will help me get back to previously set quarterly goals? What new state/federal regulations affect my company? How are consumers' buying behaviors changing? How do we assess any possible shortcomings?
In summary: what is the winning formula for achieving businesses' financial success and how do we revive business goals in the wake of COVID-19?
This article addresses strategies for adhering to state/federal safety regulations while managing business goals as the economy reopens. We won't cover every specific business issue related to the pandemic, but we do hope to inspire business leaders to consider fresh ideas that help them innovate and motivate businesses. This will in turn streamline impediments to productivity in quarters 2 and 3, leading into the holiday season of 2020.
Reviving Business Goals: Safety first
The first step toward reviving business goals, companies must consider developing concrete strategies that promote a healthy and safe work environment that helps reduce the risk of COVID-19 infection. Some examples include:
Redesign office space and layout to help maintain social distancing of 6 feet apart (workspaces and break rooms).
Provide complementary PPE to employees working on-site in offices (masks, gloves, disinfectant); and sanitizing stations.
The standardized screening process for employees entering the office. Consider a mandatory body temperature monitoring station for employees to use before clocking-in and have a process for when an employee might arrive with an elevated temperature.
Ensure round the clock janitorial services (disinfecting popular surfaces and bathrooms periodically).
Reintegrate the workforce – establish an optional work-from-home policy for non-essential Gradually increase your office foot traffic over time (don't have everyone show up to the office at once, test procedures with limited staff before onboarding entire teams). Create an "office hour" schedule for telecommuting employees to come into the office and get work done that they normally at home.
We encourage all businesses to adhere to and implement all local, state, and federal regulations related to the COVID-19 outbreak. These preventative actions help protect businesses from potential workplace hazards while also giving businesses legal protections resulting from COVID-19 related issues. The U.S. Chamber of Commerce and other legislators are coming together to help grant legal immunity to businesses that are following regulations as counties began to reopen.
Reviving Business Goals: Relaunching Your Business 
Reviving business goals may mean that business leaders must adapt by reimagining their marketing landscapes to be more empathetic toward the shifting priorities of their audience.
For digital campaigns, businesses may need to re-evaluate trending keywords and phrases, including which phrases to avoid. Customers are sensitive to the world outside their homes. Businesses that pay attention to this sensitivity and develop campaigns with positive communal messages may attract consumer feelings of support and innovation. These campaigns can highlight what the company is doing to make their products/services safer, how companies are protecting their employees and customers from potential COVID-19 outbreaks, and portray a positive message that supports a safe and healthy market.
Americans have always been proud to support their local communities and this has not changed during the pandemic. Businesses can utilize this behavior by creating a more "local feel" to storefronts, websites, social pages, and marketing content. This is easily accomplished by embedding product/service lifestyle images that display local ambiance within future marketing campaigns and landing pages. These lifestyle images build a comparative aesthetic toward the product/service. This helps build a familiar/repetitive relationship with your customers, increasing overall brand awareness over time, and leading to increased conversion.
Think about how you want customers to feel when they enter your store or look at your website. Consider the feeling you want customers to have when purchasing your products/services. Define that feeling and project the experience within product marketing images, websites, and social profile aesthetics.
Business leaders should also consider the inevitable growth that comes with relaunching their operations. It takes a lot of time and energy to meet the demands of customers. Some companies may have faced layoffs due to the recent events and now find themselves organizing mass hiring strategies in order to meet increasing product demand. Hiring a team creates new challenges: finding the time and leadership power to organize calls and interviews, sorting through resumes to find the right interviewees, and successfully attracting candidates to the business.
Business leaders find great benefit when working with local staffing agencies who can help find the necessary talent needed to sustain growth. There are many budget-friendly strategies that don't skimp on candidate quality. Recruiters have the knowledge and recourses needed to help employers meet and refine their growth strategy. This may consist of onboarding full-time, part-time, temporary employees, and/or contractors. Local recruiters can ensure that those needs are met.
Reviving Business Goals: How Are You Preparing for Your Business's Success Post COVID-19?
Business leaders around the world are now facing the same opportunity and threat: developing a winning formula for businesses' financial success in the wake of COVID-19. Their answer, as in past times of uncertainty, is adaptation and innovation. The motto "adapt and overcome" is a saying that the United States Marine Corps uses and can be applied to our current state of life. Businesses that successfully adapt to local, state, and federal regulations, and who overcome changes in customer behaviors will obtain company growth. Want to thrive? Adapt, grow, and prosper.